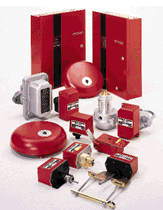 Waterflow Switches
Vane-type waterflow switches are used on wet systems. Our switches are offered in sizes to fit 2" - 10" schedule 40 pipe; for small pipe 1" - 1 1/2" and explosion proof protection.
Pressure Switches
The PS-A series pressure switches incorporate a fully adjustable pressure element with thumb wheel control. This series is applicable for either wet or dry sprinkler systems.
Supervisory Switches
These products offer a variety of supervision from outside yoke and screw valves to room temperature switches to tank water level monitoring.
Releasing Control Panels
The special hazards market allows us to provide a line of releasing control panels that fulfill a wide variety of applications.
Bells
Vibrating type bell in 6", 8" 10" sizes.