KEN-SEAL II Resilient-Wedge Valves
Dual Rated AWWA and UL/FM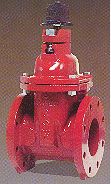 In 1981, Kennedy Valve began marketing the rugged, reliable Ken Seal Resilient Wedge Gate Valve, combining the best features of the European and available U. S. designs with some Kennedy Valve innovations that changed the configuration of all future RW gate valves.
In 1992, Kennedy Valve recognized that the market had changed and introduced the Ken Seal II with all the features wanted by today's demanding customers.
The Ken Seal II is manufactured for use in all water systems and meets or exceeds AWWA C509, UL-262/FM-1120/1130 and ULC-Underwriters' of Canada requirements.
We stock the Kenseal II Valve in Flanged OS&Y and Mechanical Joint Post Indicator Styles
Click Here To Go To KenSeal II Features And Benefits Page
Click Here To Go To Indicator Post Page
Click Here To Return To fire-sprinkler.com