KEN-SEAL II Resilient-Wedge Valves
Dual Rated AWWA and UL/FM
Features and Benefits
FEATURES
BENEFITS
Bubble Tight Closure at 250 PSI
~No leakage - no loss of water
Smooth, Unobstructed Waterway
~High Flow Characteristics
~100% smooth passage without turbulent flow
~No sediment build-up
~Will not impede travel of line cleaning tools
Only Three Internal Parts
~Virtually maintenance free
No Seat Rings
~Nothing to be damaged by scoring
Anti-Friction Thrust Bearing
~Operating torque to close and open held to absolute minimum
Solid, Bronze Stem Nut and High Strength Bronze Stem
~No corrosion
~Trouble-free service
Stem Nut is Self Centering
~Eliminates possible stress on stem and wedge
Two "O" Ring Seals Above Stem Thrust Collar
~Can be replaced with valve in service
Third "O" Ring Below Stem Collar
~Facilitates repacking under pressure
High Strength Iron Wedge Fully Encapsulated with Rubber Permanently Bonded to Metal. Wedge Design Incorporates Two Seating Surfaces
~Trouble free service with minimum maintenance
~No leaks - no wear
Kennedy Valve Powder Coating
Kennedy Powder Coating is a high performance, one-part, heat-curable, thermosetting coating which provides superior corrosion resistance protection for metal parts.

Kennedy Powder Coating material is a stable, non-toxic resin consisting of 100% solids. It is impervious to and imparts no taste to potable water. Kennedy Powder Coating is formulated from materials deemed acceptable in the Food and Drug Administration Document Title 21 of the Federal Regulations on food additives, Section 175.300 entitled "Resinous and Polymeric Coatings".

Kennedy Powder Coating is applied by a heat application, fusion-bonding process which secures the coating material to the metal valve components. This process provides a coating averaging 9 mills thick with excellent adhesion qualities.

The durable Kennedy Powder Coating has a hard finish and exhibits excellent corrosion resistance in most aqueous solutions. It will not sag or cold flow or become soft during long-term storage. In addition to excellent corrosion resistance to aqueous solutions, the coating has excellent stability and resistance to acidic soil conditions.

Kennedy Powder Coating meets both the application and performance requirements of the American Water Works Association standard C-550 entitled "Protective Interior Coatings for Valves and Hydrants
.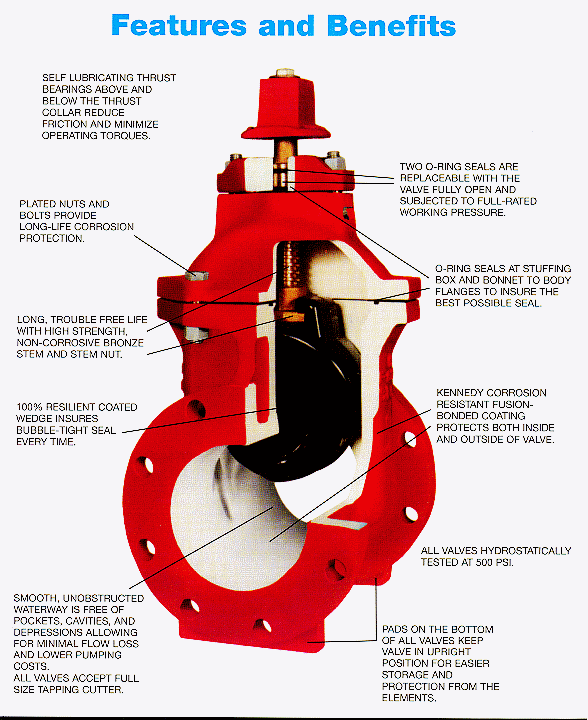 Click Here To Return To fire-sprinkler.com
Click Here To Return To waterworks-supply.com