The Mueller®2360 Seriestm
Resilient Wedge Gate Valve
2" through 12"
For reliable performance and long service life -- Certfied to NSF 61
Triple Listed
Fully complies with AWWA C509
Listed by Underwriters Laboratory Inc. and ULC
Approved by Factory Mutual Corp.
---
Optimized design for consistent performance and
long-lasting corrosion resistance
The Mueller A-2360 Resilient Wedge Gate Valve is a symmetrical design with refinements to enhance reliability and service life. It is the result of market research that told us what valve users wanted. Special features protect critical areas of the valve from damage, wear and corrosion.
---
100% elastomer-encapsulated symmetrical wedge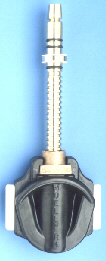 The iron wedge is completely encapsulated by an elastomer, without thin spots or voids. There are no uncoated or weak places for corrosion to start or for the elastomer to begin to peel away.

Extra long guides stabilize the wedge and prevent binding. Polymer bearing caps protect the wedge guides and interior epoxy coating from damage or wear, even after thousands of cycles under full differential pressure and flow.

The shape of the iron wedge casting and the elastomeric encapsulation are specially designed to provide a positive stop, without overstressing the elastomer or epoxy lining. This avoids splitting the elastomeric encapsulation or crushing the epoxy, and the operator is given positive feedback indicating when the valve is fully closed. It also assures a consistent number of turns to operate the valve.
---
Superior powder epoxy coating
The valve is covered inside and out with Mueller® PRO-GARDtm Epoxy Coating, and exceptional fusion-bonded powder epoxy that is certified to ANSI/NSF Standard 61.

The powder epoxy protective coating acts as a physical, chemical and electrical barrier between the valve's base metal and the surroundings.

Mueller PRO-GARD Epoxy Coating is suitable for field overcoating and touch-up without sanding, special surface preparation, or applying heat. The powder epoxy is non-toxic and does not impart a taste to the water.
---
Strength
The valve is rated at 250 psig working pressure, 25% higher than stipulated by the AWWA standard, and hydrostatically shell tested at 500 psig. The computer-aided design allows all areas of the valve to be optimized for strength, removing excess weight. Yet the valve includes Mueller's extra strength safety factors that surpass the minimums set by the AWWA standards. The A-2360 fully complies with AWWA C509, including wall thickness.
---
Selection & Versatility
End connections include combinations of flanged, mechanical joint, slip-on, radial, and threaded. Most end connections are available in the full range of sizes from 2" through 12". Tapping, cut-in, and position indicator valves are also offered. The valve can be installed in any position.

Resilient wedge gate valves are carefully packaged and palletized prior to shipment, helping assure the valves with their powder epoxy coating arrive to you undamaged.
---
Mueller plant has ISO 9001 certification
The Mueller facility in Chattanooga, Tennessee, where the valves are manufacted, has ISO 9001 Certification. Established in 1987, ISO Standards have become a worldwide benchmark for excellence throughout the design, manufacturing, sales, and service process for corporations in over 50 countries. The Chattanooga plant's 9001 certification is the top ISO rating available, and is your assurance of quality products and services every time you do business with Mueller Co.