Outside Visual Remote (OVR) Meter Reading System for Kent / ABB / AMCO Model C-700 Magnetic Drive, Positive Displacement Water Meters

Sizes: 5/8" - 2"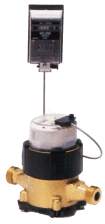 Operation
The Outside Visual Remote Meter Reading System (OVR) consists of a pulse-type generator and remote wall unit. The system is designed to permit visual remote reading of the generator's pulses, each of which is equivalent to a known volume of water. The generator is

self powered

and is magnetically driven by the piston movements in the meter's measuring chamber. The generator totalizes water throughput and sends pulses to the wall unit via a 2 - conductor wire. The pulses are counted and displayed on the wall unit totalizer for visual reading.
Compliance to Standards.
The Outside Visual Remote Meter Reading System (OVR) complies with all design, performance and material requirements of the American Water Works Association Standard C706, as most recently revised.
Installation.
Place the Potable Cold Water Meter in the service line as recommended by the Installation & Start-up instructions and install the two (2) wire cable and wall unit according to the instructions accompanying the equipment. Test the generator's circuit and remote wiring with a pulse simulator / closed circuit tester.
Application.
The Outside Visual Remote Meter Reading System (OVR) is an option for our C-700 meter. It facilitates visual remote meter reading when applied to meters in basements, crawl spaces, shopping centers, condominiums or industrial plants when lockouts, security, location or similar reasons disallow regular direct meter reading. Accuracy tests of our water meter and the Remote Meter Reading System are made before shipment. Should further accuracy tests be required by the utility, a test circle and test hand are provided on the generator's dial. Follow the test procedures of AWWA Manual M6.
Generator Specifications
Size
5/8" - 1"
1 1/2" - 2"
1 Rev Test Hand
US Gallons
1
10
Cubic Feet
1/10
1
Cubic Meters
1/10
1/10*
Imperial Gallons
1
10
Totalizer Capacity
US Gallons (millions)
10
100
Cubic Feet (millions)
1
10
M3 Cubic Meters (millions)
1/10
1/10
Imperial Gallons (millions)
10
100
Units per Pulse
US Gallons
100
1000
Cubic Feet
10
100
Cubic Meters
1
1**
Imperial Gallons
100
10000
* 2" - 1/100 cubic M,
** 2" - 10 cubic M
Fixed Zeros on Generator
US Gallons
None
1
Cubic Feet
None
None
Cubic Meters
None
None
Imperial Gallons
None
1
Generator Type
Permanently sealed pulse type assembly
Technical Data
Pulse Amplitude
8 Volts DC Off Load Min.
Pulse Duration
15 Milliseconds Off Load Min.
Cable Connection
2 Knurled Nut Terminals
Materials
Generator Can
90% Copper Alloy
Generator Lens Cover
Polycarbonate
Terminal Cover
Polyphenylene Oxide
Terminal Nuts
Brass
Generator Housing
Synthetic Polymer or Bronze

Model Numbers and Sizes
Model Number:
Add -01 for US Gallons -02 for cubic ft -03 for cubic meter registrations
Meter Size
KM0625OVR
5/8" x 1/2" for 1/2" lines - Threaded Ends for Couplings with Male NPT
KM075OVR
5/8" x 3/4" for 3/4" lines - Threaded Ends for Couplings with Male NPT
KM100OVR
1" Size for 1" lines - Threaded Ends for Couplings
KM150OVR
1-1/2" Size for 1-1/2" lines - Oval Flanged Ends
KM200OVR
2" for 2" lines - Oval Flanged Ends
click here for a printable spec. sheet (PDF, 144kb)

remote meter installation instructions (PDF, 72kb)
Specs on the C700 meters

Back to Kent / AMCO Meters Main Page

www.water-meters.com www.watermeters.com www.watermeters.net
www.oilmeters.com

We are located at Daniel L. Jerman Co., 275 Railroad Place, Hackensack, NJ 07601
Phone 800-654-FREE (3733) Fax 201-487-3953 International Phone 201-487-7444
watermeters.com the first and still the best online source for water meters